Target group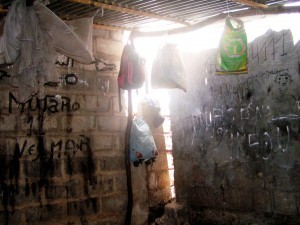 The first and oldest target group Afractie is aiming at are the talibés who are a complex and
omnipresent issue in Senegal. It concerns boys as early as 4 years old placed under supervision of a marabout (spiritual leader) by their parents. These children often originate from neighbouring countries or domestic villages in Senegal. The marabout wanders with his big group of students to the cities. The children are sent on the street to beg for about ten hours. They are recognisable by their containers or soup cans which they are carrying. Just a small part of their day is dedicated to their Quran study. They live in daara's which are unhygienic, too small, dirty and deprived of water and electricity. Often we encounter inflamed wounds and scabies. Due to the daily quota, these children have little time for leisure, play, development and education except for Quran studies.
According to a Human Rights Watch study in 2010 ('Off the Backs of the Children') approximately 50 000 street children are roaming around in Senegal. In this report HRW speaks of neglect, exploitation, slavery, abuse and ill-treatment.
Watch this video, a summary of a recent report of talibés (Human Rights Watch, 2014).
Selection
These boys have the opportunity to go to the shelter home supported by Afractie. The local team tries to meet their basic needs. Read more about the shelter home here.
Furthermore, our local team is visiting several daara's in the area. This way they try to maintain good contact with the marabouts so they can approve the boys coming over to the shelter home. The visits also give opportunity to see the boys who are not frequently visiting the shelter and dress wounds, flag ill children and if possible improve living circumstances (mosquito nets, new sleeping mats, bug spray, etc.). Our independent employee, Fatou Kiné, visits weekly some daara's to medically look after the children as well as flag sick children.
We are also raising awareness of the issue on a structural level by cooperating with other organisations. Our independent employee is involved in 'Doyna Stop children's vagrancy' as well.